On Sunday I brought up the lone container of winter clothes that I have stashed in my storage unit. Not only do my spacious closets hold almost everything except for folded sweaters (in summer) and tees (in winter), but my wardrobe overall is much less seasonal than in years past. Except for the hottest days which call for linen, and the coldest days which require actual snow boots, I tend to wear the same things year round. This makes opening up the seasonal container less exciting, but I still discover things I bought right at the end of the season and never got to wear.
Tis also the season to get rid of the things that are hanging around unworn. I have a nice black velvet jacket that is just too small, see below:
I cruised eBay for the same jacket in a 16 but couldn't find it. This led me to searching the Talbots site for a black velvet jacket, and they have one, but look at the difference: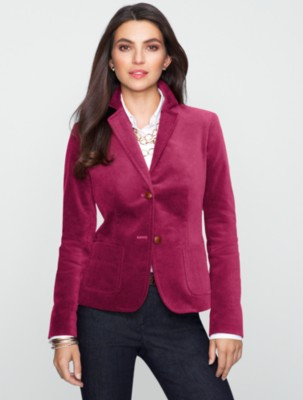 My six-year-old version has two sets of pockets with button flaps, buttoned cuffs, princess seams and nice ball/shank buttons. The new version has two patch pockets, no detail at the cuffs, bust darts instead of seams, and two flat plastic buttons in front. For the same price.
A cursory review of the new catalog reveals the same cost-saving simplification everywhere. No more welt pockets (so sleek and flattering), no pocket flaps, no seaming details. They still have lovely colors and fabrics, but the cashmere is thinner, the linings are acetate instead of rayon, and the pants don't have watch pockets. The quality is much more like Ann Taylor, which isn't a bad thing, exactly, but it isn't the Talbot's to which I was so devoted.
This makes me VERY reluctant to give up my velvet jacket. Maybe I'll lose ten pounds (above the waist), it could happen. The point is that it is no longer easy to replace an item in my closet without paying a LOT more for it. And I suspect that ladies of a certain age no longer want to dress like a Talbot's catalog. They want to look a little more stylish, a little less preppy.
Maybe I should too, but this will be the end of a major era for me - more than 25 years of Talbot's shopping. I'll need some time to process it. :-)