I packed sensibly and lightly for our Canada trip. Black knit skirt, white denim skirt, emerald green jeans, white linen shirt, snake print shell, floaty blue and black tunic, black tee, black and white cardigan, black sandals. Earrings, necklace, watch, light scarf for the plane. On the day of my flight, it rained, so I had to add a jacket and proper lace-up shoes. This all fit in my carry-on, which seemed to have more hair products in it than clothes.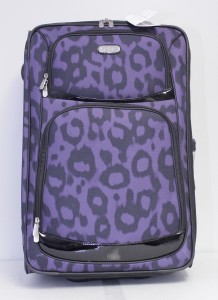 My trusty purple leopard bag.
This all worked very well for the sunny and warm weather we had. I was content to wear the linen shirt with everything. I knew I would shop in Montreal, and I did, finding jewelry and shoes and a scarf.
Usually, when I return from a vacation, I feel like burning the few things I had to wear EVERY DAY. When I came home from Montreal, I found myself wanting to wear those very simple outfits again. In particular, I didn't want to wear a lot of color. My first week back I wore only black and blue. This week I wore only black and red (gray and red on one day). Depending on the weather, I might wear yellow as my color next week. Yellow and white, yellow and gray, etc., and maybe just a shot of yellow at that - a scarf or a necklace.
I'm sure I'll return to bright color combinations eventually; I'm not purging my closet or anything CRAZY. I just want to enjoy simpler choices and more neutrals for a while. Plus I am looking forward to my two new pairs of boots providing a punch of orange (Fluevog suede Milla) or teal (Cobb Hill Bethany lace-ups).
The Milla - so pretty!
They zip up the back!
I got both of these on sale, but they were still pretty spendy. The Cobb Hill boots come in a variety of rich colors and leathers too. Just a thought.
And my favorite souvenir from Montreal, my fat horsie fridge magnet from my generous and clever friend Heidi: